Katy Gardener
16 quick garden jobs for July
Updated: Jul 3, 2020
In this post I have listed the key garden jobs you should be getting on with in July. I have included tips on flowers, produce and general garden maintenance. Somehow I reached a grand total of 16 jobs which seems like a LOT, but don't panic they are all very achievable. I promise!
At the bottom of the post I have included a lowdown of the BEST flowers and vegetables that should be thriving in your garden in July.
Read on to discover!
JULY GARDEN: JOBS FOR YOUR FLOWERS
1. Stake and tie your tall plants like sweet peas or lilies so they continue to grow straight and strong.
2. Deadhead your roses, petunias, foxgloves and lupins to encourage another round of flowering as the summer continues.
Always cut at the node of the stem.
3. Cut back hardy geraniums and delphiniums and there is a chance they will bloom again.
4. Keep picking sweet peas to encourage more growth and delightful fragrant flowers for your table arrangements!
5. Prune flowering shrubs such as wisteria, mock orange and weigela to encourage healthy blooms next year. You want to reduce the shrub by about a third. Try to do this as evenly as possible.
JULY GARDEN: JOBS FOR YOUR FRUIT AND VEG
6. Pick courgettes whilst they are young as this encourages the plant to keep producing.
7. Pick your herbs on a dry day and then freeze them to use in the winter. Zip lock bags are perfect for this.
8. Give any fruits in pots a liquid feed.
9. Thin out your fruit trees (apple, cherry, plum etc.). This helps reduce the risk of silver leaf which is a nasty fungal disease that fruit trees are susceptible to. Always disinfect your tools afterwards as the spores can easily transfer.
10. Use netting as a cover over your fruit bushes to ward off greedy birds. You want to enjoy the berries before they do, but be prepared to loose a few!
11. Sow fast growing salad or buy salad seedlings to get the next batch of lettuce on the go.
JULY GARDEN: GENERAL JOBS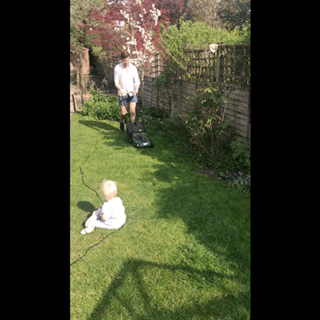 mowing the lawn
12. Give your lawn a final liquid feed and mow the lawn at least once a week.
13. Maintain a vigorous watering routine, especially in hot dry weather. The best time to water is first thing in the morning or in the evening. Avoid watering in the middle of the day.
14. Keep on top of weeds: bindweed and ground elder are devils and grow ridiculously quickly. Don't let them get out of control. Pull out dandelions as soon as you see them, to prevent them from self-seeding across your lawn.
15. Clip your box hedging. A great pair of secateurs should do the job nicely. It is surprisingly satisfying to see how much better hedging looks after a good haircut.
16. Keep things tidy! Use a broom or a blower to polish things up a bit.
That's all the jobs completed, now you just need to keep an eye out for all these beauties in bloom this month...
JULY GARDEN: MY FAVOURITE FLOWERS IN BLOOM IN JULY
Climbers: summer clematis, climbing hydrangeas, jasmine

Summer-flowering shrubs: Lavender, hydrangeas, hibiscus

Perennials: Geraniums, lilies, cornflower, delphiniums, dahlias, atrantia, poppies, ranuculus, salvia, scabiosa, stocks

Roses

Summer bedding plants: sweet peas, tobacco plants, cosmos, lobelia
JULY GARDEN: PRODUCE READY TO HARVEST IN JULY
Salad: Lettuce, herbs, rocket, spinach

Vegetables: broad beans, broccoli, carrots, courgettes, cucumber, French beans, kale, mangetout, peas, potatoes

Fruit: Strawberries, raspberries, loganberries
July should above all be a time to enjoy your garden. Now is the time to reap the rewards of all your hard work, so whilst there are plenty of jobs to be getting on with, my top recommendation is to grab a little glass of something and drink in the nature around you. You will miss it come November.